Submittal Tracker
Novologic transforms the construction submittal process into an agile, proactive experience for all stakeholders.
Novologic removes conventional challenges around validating project specifications, obtaining approvals, resolving issues, and overall project coordination. Comprehensive information and real-time actionable insights are available at your fingertips, helping you realize instant gains. Create, respond to, track, and manage Submittals from one convenient dashboard which is accessible on cloud.
Easily preload a list of Submittals at the start of the project, or at anytime thereafter.
Create and send Submittals in a matter of seconds. With Novologic, everything you need is available right in front of you, and whenever you may need it.
Organize, view revisions, choose approvers and more with Novologic's Submittal Tracker. Improve your communication with automated communication workflows.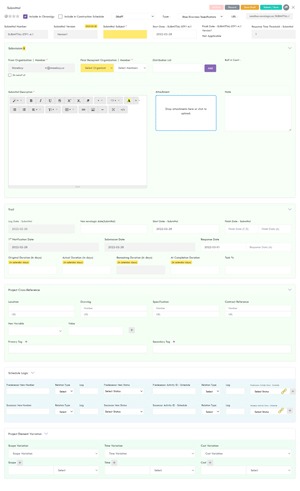 Take the effort and stress out of responses to Submittals. Novologic makes the response cycle effortless. With readily available information; and option to bring other people, responses to Submittals become effortless.
Option to request additional information quickly, without slowing down the review process.
Once saved, responses are instantly available to the senders, eradicating the burden of manual notifications. The ongoing progress is super easy to track, so you don't have to do manual follow ups on the progress.


Learn about the status of all Submittals in an instant.
Crunch the Submittal Tracker dashboard, or prefer individual notifications.
Stay on top of updates, and progress for all open and closed Submittals.
Take the next steps, do away with the period of inactivity after receiving a Submittal response.
On receiving response to a Submittal, create successor events or tasks such as RFI, Permit, Procurement, Variation Event, Change Instance, or a Notice if needed.
Share & Export Submittalss with anyone as needed, even with people not on Novologic.


With Novologic, avoid overcrowding of your inbox from countless notifications during the submission, review, and approval process for Submittals.
Learn more about Submittal Tracker
One of the most important aspects of any construction project is the submittals process. Submittal process forms the backbone of flow of information and approval in the project, and the health of the submittal process is reflected in the overall health of a construction project. When used effectively, submittals help with the following:​
Validate project specifications
Obtaining approvals
Resolving problems
Assist in project coordination
A majority of construction projects still see use of paper submittals, or submittals sent via emails. While paper submittals are possibly the biggest sink in a project's management, submittals sent via emails also tend to slow down projects as emails have to be individually sent, individually tracked, and individually apprised. Emails carry the lion's share of the phenomenon of information overload, and it is very easy for a project member to miss an important email amid the everyday email deluge.
Searching through emails is a time consuming way to find information, nor do such searches provide comprehensive information, or actionable insights to the project members. The project organizations who make the switch to a digital submission system, like Novologic's Submittal module, realize immediate gains which translate to savings in the project.
Delay in submittals, both on part of the senders, as well as on the part of the reviewers can lead to delays, rework, and can have a direct effect on a project's budget.
Submittals affect the scope, time, and cost of a project. This is why many companies use digital submission systems to streamline the submittal process, and weed out errors and inefficiencies in the process. Novologic's Submittal module ensures that the project managers, and project members are in control at all times.
Novologic's Submittal module can prove to be an invaluable tool in the management of your construction project. The Submittal module is a game changer, and can optimize the submittal process in your construction project. This module relieves all challenges around creating, and tracking submittals; and helps organizations in becoming more efficient, reduce overhead costs, realize profits, and in successful management of their construction projects.
Novologic's Submittal module utilizes cloud technology enabling project members to access all information, and status for submittals instantly. Submittals are tracked from a single source, and real time updates are received.
Like other Novologic modules, the Submittal module has been designed to weed out wastage in the submittal process. The Submittal module shortens the time to create, track, respond, and manage the submittals in a construction project. The automated two way notification feature notifies the reviewer when a submittal is created, and notifies the sender when a response is received from the reviewer.
With the Submittal module, project members can create submittals online, and easily assign items to receivers, and include other project members in the distribution list. Updates to submittal items can be viewed on a real time basis – both individually, and collectively in the summary view.
The Submittal module makes the process less time consuming and complicated, more efficient, especially when many project organizations, and many more project members are part of the project. The submittal process offers enhanced collaboration, and reduces the likelihood for errors at the same time.
Novologic Submittal Tracker at a glance
Novologic's Submittal module takes the burden of submittals away from the prime contractors, and reduces workload for the Project Manager, or Vendor Leader. Submittals can be created by any of the project members, including project members of subcontractors.
Submittals can be created from mobile devices at the construction site, or from a laptop from the site office. The Submittal summary page provides a snapshot of the status of open, closed, and work in progress submittals.
Submittals can be assigned to any project organization, and project member with simplicity of an email. Other project members across all project organizations can be copied on the notification.
The submittal form has fields for start date, finish date, Response Time Threshold, and version information.
A receiver can respond to a submittal simply from his or her email, there is no need to log in to Novologic to respond. The email response from a reviewer will be saved in the original submittal form.
Submittals are time stamped, and other information pertaining to the submission process is also saved.
All submittals go through an intermediate approval process where Project Managers, or Vendor Leaders can decide to forward the submittal to the reviewers, or to return it to the senders.
Two way notifications are provided with the progress of the submittals.
Additional details for scope, time, cost can be provided at the time of creating a submittal, or such detail can be added later on.
Interdependencies, and constraints can be created within the submittal. Information on predecessors, and successors can be captured in the submittal itself.
Option to record Planned, Actual, Remaining, and At-Completion Duration for every submittal. Likewise, option to record Planned, Actual, Remaining, and At-Completion Cost for every submittal.
Option to create additional notes to document information relevant to the submittals.
Easily share, export, or print individual submittals, or the summary view of all submittals in a project.
Features such as drag and drop, and tag offer a simplified user experience in the Submittal module.
Attachment feature to add files in multiple formats.
Starred view feature with the option to add ⭐, ⭐⭐, or ⭐⭐⭐ for prioritization.