Variation Event Tracker
Variation Event removes conventional challenges around creating, tracking, managing, and closing Variation Event.
Variation Event are rites of passage and serve as tools of auditable communication in construction projects. Create and send Variation Events in a matter of seconds.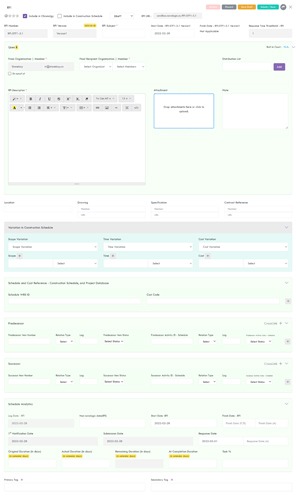 Novologic makes the response cycle effortless.
Take the effort and stress out of Variation Event responses. Readily available information, the ability to start, create drafts, and finalize later, and options to bring other people to weigh in are at your fingertips.
Learn about the status of all Variation Events in an instant.
Process the Variation Event's using dashboard, or prefer individual notifications. Stay on top of updates, and progress for all open and closed Variation Events. Share & Export Variation Events with anyone as needed, even with people not on Novologic.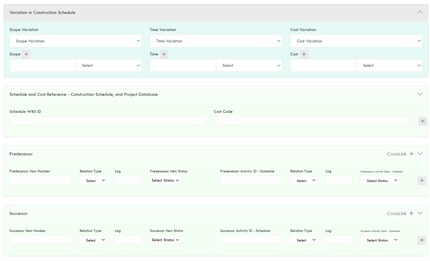 Take the next steps, do away with the ambiguity after an Variation Event closes.
On the close of Variation Event, create successor events or tasks such as Submittal, Permit, Procurement, Variation Event, Change Instance, or a Notice if needed.
Learn More..
Novologic's Variation Event Tracker (VET) is based on Stoneboy's VMP (Variation Management Protocol). Developed at Stoneboy, VMP is a comprehensive methodology which utilizes calculus, and advanced data analytics for construction project reporting and analysis. A potential game changer in the field of Variation Analysis, Impact Analysis, and Construction Claims Management – VMP is a spin off of Stoneboy's holistic project data management approach.​
VET documents the impact of a variation event on the project scope (Scope Variation), project time (Time Variation), and project cost (Cost Variation).
Novologic Variation Event Tracker (VET) at a glance
The VET module takes the burden of evidence, and contemporaneous documentation away from the project managers and team leaders. Variation events can be logged by project organizations on both sides – on the contractors' team, as well as on the owner's team – and can be agreed upon by both sides later on. This flexibility in creating proposed variation events greatly reduces the burden of paperwork on both sides.
Variation events can be created from mobile devices at the construction site, or from a laptop from the site office. The VET summary page provides a snapshot of the status of open, closed, and continuing variation events.
Variation events can be assigned to any project organization and project member with the simplicity of a notification. Other project members across all project organizations can be included in the distribution list. All variation events go through an intermediate approval process where project managers or team leaders can decide to forward the variation event to the reviewers, or to return it to the senders.
The variation events form has fields for start date, finish date, Response Time Threshold, and version information.
A receiver can respond to a variation event simply from his or her email, there is no need to log in to Novologic to respond. The email response from a reviewer will be saved in the corresponding variation event form in Novologic.
Logs for variation events are time stamped, and other information pertaining to the submission process is also saved.
Two way notifications are provided for continuing variation events.
Easily share, export, or print individual or the summary view of all variation events in a project.
Features such as drag and drop, and tag offer a simplified user experience in the VET.
Attachment feature to add files in multiple formats.
Starred view feature with the option to add ⭐, ⭐⭐, or ⭐⭐⭐ for prioritization.